Portfolio Insights
Transformational Change: How Lean Unlocks Potential
When Blackstone invests in a company, we identify ways we can make that company better.
---
This year, Blackstone is exploring the ways we create transformational change through our Portfolio Operations team – looking at everything from lightbulbs to leadership. To start our campaign, we're focusing on lean.
When Blackstone invests in a company, we identify ways we can make that company better. Some of our most effective tools for improvement are Lean Principles. Lean guides how we intervene in operations to make companies more efficient and strengthen their long-term growth prospects. We apply these rules to transform manufacturing facilities, re-shape distribution centers and improve retail experiences. The result? More productive, more efficient, and safer operations that set our portfolio companies up to achieve their full potential, grow jobs and invest in their long-term success.
You can listen to the first episode of 'Transformational Change' – our new podcast series on the ways we think about operational improvements. For our first episode, Christine Anderson, Global Head of Public Affairs, sits down with Dave Calhoun, Head of Portfolio Operations and Jeff Overly, Blackstone's lean specialist. Dave and Jeff discuss the history of lean [0:30], implementing lean processes at Gates [3:50], the lean leadership at Service King [8:05], creating cultural change at Michaels [9:50], and looking to the future of the practice [13:05].
Lean in Retail: Michaels Stores
A look inside the reasons why we've implemented continuous improvements across Michaels stores, helping empower and equip store associates with tools and processes to better support customers.
Lean + Technology: Service King
What does lean look like today? Increasingly, we're finding operating efficiencies through technologies like 3D printing and mobile devices. See how this is impacting the shop floor at Service King.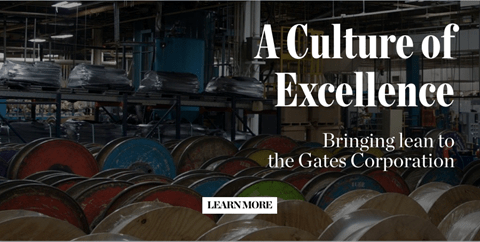 Lean In Practice: Gates Corporation
In partnership with the leadership team, Blackstone has helped create a culture of continuous improvement at Gates – see how this transformation was implemented.
Neither this article nor any of the information contained herein constitutes an offer to sell, or a solicitation of an offer to buy, any security or instrument in or to participate in any trading strategy with any Blackstone fund or other investment vehicle.
Past performance is not indicative of future results and there is no assurance that any Blackstone fund will achieve its objectives or avoid significant losses. This article may contain forward-looking statements; such statements are subject to various risks and uncertainties.