Firm News
Blackstone by Example: Wesley LePatner, Tiffany Fariole Smith and Sloane Schuster
Wesley LePatner, Global Chief Operating Officer of the Core+ Real Estate business and the Chief Operating Officer of Blackstone Real Estate Income Trust, sat down with two mentees, Tiffany Smith and Sloane Schuster, both Managing Directors in the Real Estate Institutional Client Solutions Group. 
---
At Blackstone, we believe that mentorship is essential to helping our employees grow in their careers – all the more so when many of us are working remotely. In the coming months, the Blackstone Women's Initiative will be sharing a series of conversations between mentors and mentees that provide insight into how we're building the firm's next generation of leaders. We'll begin by highlighting stories from women across our business who have benefitted both personally and professionally from their mentor-mentee relationships.
Wesley LePatner (center) serves as the Global Chief Operating Officer of the Core+ Real Estate business and the Chief Operating Officer of Blackstone Real Estate Income Trust (BREIT). She also serves as Chair of the Women's Initiative at Blackstone. Prior to joining the firm in 2014, Wesley spent 11 years at Goldman Sachs, most recently as a Managing Director and the Chief Operating Officer of the Real Estate Investment Group within the Asset Management Division. Prior to that, she worked in Goldman Sachs' Real Estate Principal Investment Area and the Real Estate Investment Banking Group.
Tiffany Smith (left) is a Managing Director in the Real Estate Group. She currently works on strategic initiatives and critical projects in close coordination with the Global Co-Heads of Real Estate. She joined Blackstone in 2008 and spent several years working on legal and compliance matters for the Real Estate group before joining the Institutional Client Solutions team, where she led the investor communications team for RE ICS.
Sloane Schuster (right) is a Managing Director in the Real Estate Institutional Client Solutions Group. She manages the investor relations team responsible for supporting all aspects of global real estate marketing, client service, and new product development. Prior to joining Blackstone in 2016, Sloane Schuster was a Principal at Apollo Global Management coordinating investor relations and marketing activities for their real estate business. She was also previously the Director of Investor Relations at Siguler Guff & Company and worked in Fixed Income Sales and Trading at Lehman Brothers.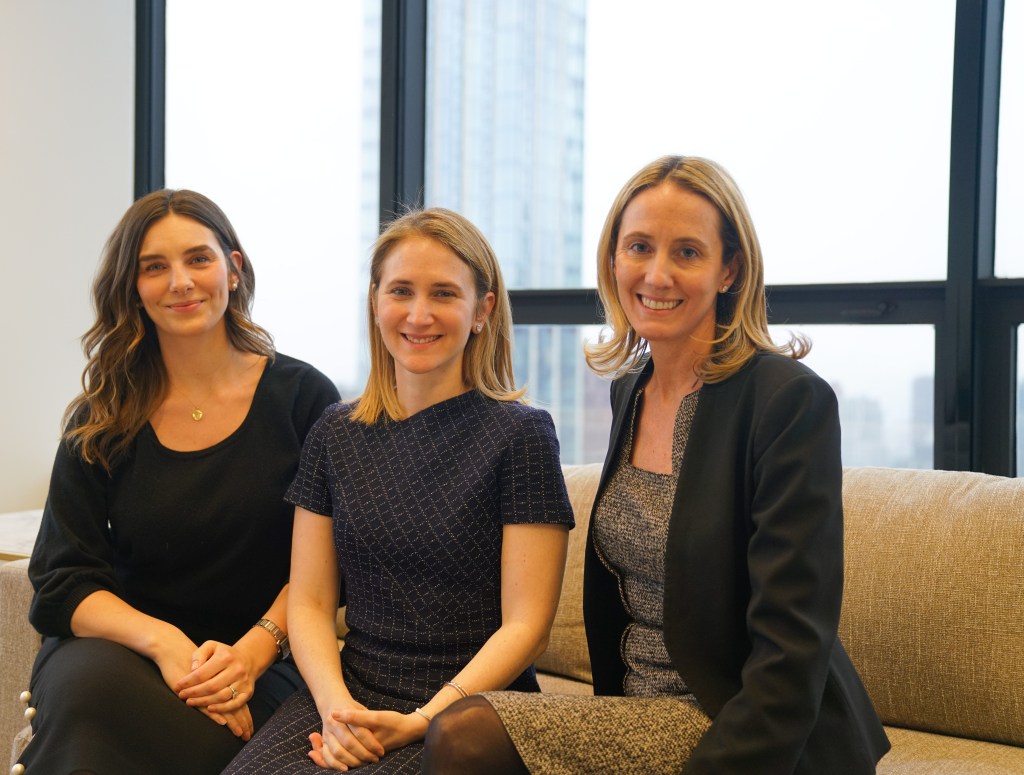 Wesley LePatner: I joined Blackstone in 2014 to get our Core+ Real Estate business off the ground. Typically when you're launching a start-up you have to beg for and borrow resources. So you can guess how delighted I was when a young woman popped her head into my office in my second week at Blackstone and eagerly offered to help. That was Tiffany. She was an Associate at the time and had worked on compliance matters as well as our investor relations efforts across the Real Estate Group. I always tell young people to proactively seek out a mentor. Tiffany did just that and the timing couldn't have been better for both of us.
Tiffany Smith: I'm glad you remember that! It was a bit nerve-racking to approach a new senior person and volunteer to help with something I had never done before, but I was motivated to learn and expand my skillset. Looking back now, that was the start of having the courage to take on new projects, even if there's no precedent and the path forward is challenging. That experience prepared me well for my current role, where I work on a variety of strategic initiatives with the leadership of the Real Estate Group. I feel incredibly fortunate for the time Wesley has spent coaching me and proud of those early years when the team came together to build Core+.
WL: I am so proud of those early years too. As the Core+ business continued to grow during that time, the demands within Institutional Client Solutions, the group which oversees Limited Partner relationships, were also increasing and we realized we needed to grow the team. We recruited Sloane given her strong and relevant investor relations experience and proven ability to drive new initiatives. There was so much to do that having more talented people would only enable us all to do more, and I am very proud of how collaborative Tiffany and Sloane were from the start with each other. I've tried hard to set the tone that teamwork is really important and being a good colleague to one another is critical.
Sloane Schuster: We've always worked well as a team. The period of time when I joined Blackstone was one of extreme growth in Real Estate and it was all hands-on deck from the moment I set foot at 345 Park. Our collaboration with Wesley on new initiatives and product development for Core+ provided me and Tiffany with new experiences and stretch assignments. We have similar work styles – we tackle big projects head on and break them down into digestible steps, and we're always thinking about how we can push the envelope and improve as a team for the next big project.
TS: Mentoring above and below is important and often talked about, but so is cultivating a partnership with a peer that you can really rely on. Sloane and I have come to lean on each other for gut checks, another set of trusted eyes and additional focus and drive when the other needs support. We've also benefitted from having complementary skillsets, and I think we've made each other better professionally and have been able to accomplish more as a result. We are always rooting for each other.
WL: A big part of having a successful mentor/mentee relationship is developing the trust to know that you want to see the other person succeed. This trust needs to go both ways. When I work with Sloane and Tiffany on a project, I know that they are totally committed to the outcome, and, because of that, also unafraid to disagree with me or point out something that we can do better. That's not only made our relationship stronger but allowed us to achieve a tremendous amount of growth for the Core+ business in a very short period of time. The mentoring relationship also evolves over time. As Tiffany and Sloane have continued to grow their careers here at Blackstone, they have developed the confidence and judgement needed to take on a wider breadth of responsibility. This has not only provided real leverage to me in Core+ but also the rest of the Real Estate Group.
SS: Over the years Wesley has led by example on how best to motivate and lead cross functional teams to all work together and drive toward a goal. In my role today leading our global investor relations efforts, I've tried to emulate the way she brings people together both professionally and personally. On a personal note, from the moment I joined the team, Wesley showed me that it was possible to be fully engaged at work and also with your family, siblings, friends, and charitable endeavors. It doesn't need to be all or nothing. Her positive example has helped me aspire for the same.
TS: Working with Wesley and Sloane who both have families and full lives, similarly showed me that it was possible to incorporate all the people you care about in a thoughtful way, both family and colleagues, and still keep striving at work. I joined Blackstone essentially out of college and now have a toddler-aged son. The amount of professional and personal support they both provided along the way made the world of difference to me, especially when adjusting to new life stages. It is a big reason why I am so pleased to be on the Women's Initiative Taskforce at Blackstone, which Wesley now chairs, so I can pay it forward to other female colleagues.
WL: I always say that when you have children and work at a dynamic place like Blackstone, you fully realize the need to focus on what's important and find others who are right there with you. I think we all gravitate toward people, whether they're men or women, who are also trying to live very full lives across multiple dimensions. One of the reasons why I've loved working with both Sloane and Tiffany is that they are able to project manage through anything, and also make people excited about being a part of the effort even amidst very challenging circumstances. The result is we achieve a lot together in terms of efficiency and workload, but we also have fun along the way.
SS: It's true, we do. The best piece of advice I have learned from Wesley is to never bring a problem. Bring a solution. We're always thinking that way and we want our teams to do the same. Be solutions-oriented and always try to get ahead of any obstacles.
TS: We learned from the best!
Learn more about the Blackstone Women's Initiative here, and read a recent mentorship piece in the Wall Street Journal featuring Blackstone here.