Firm News
Blackstone by Example: Tia Breakley, Jack Pitts and Emily Mathews
Our new series features conversations between mentors and mentees across Blackstone to shed light on how we're building the firm's next generation of leaders.
---
In the second installment of Blackstone by Example, Tia Breakley (left), General Counsel and Chief Compliance Officer of the Infrastructure group, sat down with two of her mentees, Managing Director Jack Pitts (middle) and Senior Vice President Emily Mathews (right), both in BAAM, Blackstone's hedge fund solutions business. They reflected on supporting each other during challenging moments, learning to "pick up the baton" with new leadership roles, and staying connected through Blackstone's Diverse Professionals Network.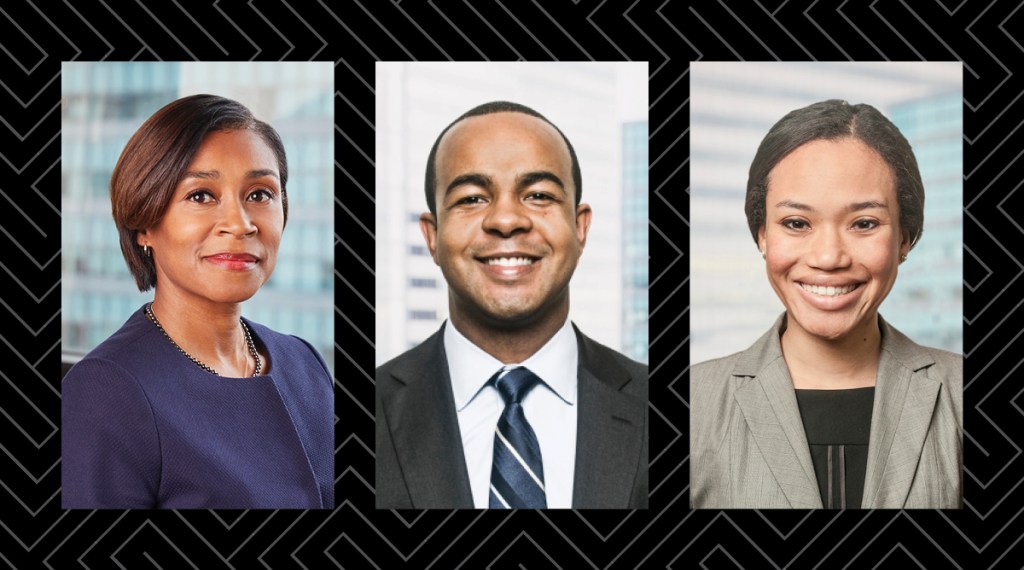 Prior to joining the Infrastructure group, Tia served as Deputy General Counsel of BAAM, where she spent her first decade at the firm.
Jack joined Blackstone in 2012 and has since been involved in the legal structuring of BAAM's customized multi-manager portfolios, as well as the review, analysis and negotiation of investments by its Special Situations Investing group and other direct trading platforms and investment opportunities.
Emily joined Blackstone in 2014 and has also been involved in the legal structuring of BAAM's customized multi-manager portfolios, as well as the legal negotiation for Blackstone's hedge fund seeding business and other investment opportunities.
Tia and Jack serve as Co-Chairs of Blackstone's Diverse Professionals Network, and Emily is member of the network's Task Force.
Tia Breakley: I had the pleasure of hiring both Jack and Emily onto my team in BAAM, where I spent 10 years before moving over to help launch the Infrastructure business. The team was tasked with negotiating BAAM's largest strategic partnerships as well as structuring new funds. This part of BAAM's business grew exponentially during my time in the group, and I was able to hire both Jack and Emily onto the Product Structuring team.
Emily Mathews: I feel very lucky to be at Blackstone and in BAAM. Our careers have evolved since then, but I've always felt that you and Jack were great mentors. From day one, both of you created a supportive and judgment-free space for me to ask questions, learn and have opportunities to grow and challenge myself. You also gave me unabashedly honest feedback, which is very important – and was critical to my transition from a law firm, which is completely different from being in-house.
TB: It was clear early on that Jack and Emily had great core skills (drafting, negotiation, creativity), but also had the soft skills to work closely with clients – exactly what was needed on the Product Structuring team. Over time, they were instrumental in bringing in quite a few key investors.
Jack Pitts: I felt that from the day I walked in, I was going to be given responsibility and put in front of the right people, but I also had the guardrails. You were there to have some of the difficult conversations that you have to have early on in your career. I never really got a chance to tell you this, but when you left BAAM to join our new Infrastructure business, I started thinking, "Now that Tia's gone, what does that mean for me?" But I realized that thanks to all the training and responsibility that you had given me throughout my time at Blackstone, I was ready, just as you were ready to take on the next venture in your career. While it was terrifying at first, I was prepared, and I owe that to you. I still call you all the time, whether it's about BAAM, the Diverse Professionals Network or life in general, and you always answer.
TB: Thank you, Jack. I promise I didn't pay him to say that. I always look to hire the best people into any role and I do think that every team benefits greatly from diversity: gender, race, ethnicity, orientation, background, family arrangements—you name it. I am very proud of having created diverse teams as a manager and I know others will continue to pay it forward as we keep working to make Blackstone more inclusive.
EM: It's very challenging to do your job well while also investing in your team and their development. You and Jack have been phenomenal at both – and that includes being supportive on a personal level. When I first started at Blackstone, I had a few challenging family health situations that were my priority. I felt comfortable opening up to Tia and Jack and their personal and professional support were immensely valuable both during that time and throughout my career. It confirmed for me that, at Blackstone, I could still pursue professional achievement while firmly holding on to what was most important to me.
TB: I think it's important to hire and develop people with a view to their trajectory and not where they are at a particular point in time. A key part of being an inclusive leader is making space for your team to deal with ups and downs in life – new baby, sickness in the family, you name it. Those are points in time, but having someone on the team who is hardworking, smart and committed to maintaining a positive culture is a long-term asset for the firm and any team. As a manager, it is important to me that team members can have fulfilling personal and professional lives.
JP: Tia, I remember being a couple days onto the job. We had just moved, my wife was nine months pregnant with our first child, and my father-in-law had passed away. You walked over and told me, "Leave. Be with your family. Take care of everything and we'll see you when you get back." I knew right then and there that I was in a great place and that I couldn't ask for a better manager. And I try to do the same with my team.
EM: You have both modeled the importance of caring about the people you work with. Your compassion, humility and genuine interest in others lead to organic relationships. That permeates your teams, and that's why people gravitate towards you and create long-lasting relationships with you, even as we all move forward in our careers. Tia, now that you're in Infrastructure, I'm glad the three of us have the Diverse Professionals Network as a way to continue working together.
JP: I agree. It's work-related, but it involves other responsibilities and initiatives that also have a bigger impact. I think that's important, not only for us, but also for the firm.
TB: I think our affinity networks are a great place to develop relationships outside of your business unit, and to identify mentors and mentees. A number of my closest internal relationships are people I met through the Women's Network and the Diverse Professionals Network.
Blackstone's greatest asset is our people. It's important to seize opportunities to meet and spend time with people outside of your immediate teams and business units. Investing in relationships will pay off in immense ways.