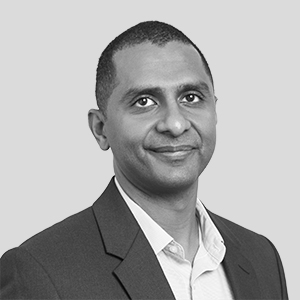 Thomas John is a Managing Director for Blackstone Credit's Systematic Strategies unit, where he is focused on the research and management of Systematic Strategies' portfolios.
Prior to Blackstone's acquisition of DCI in 2020, Mr. John focused on research and management of systematic credit portfolios at DCI, LLC. Before joining DCI, Mr. John was responsible for alpha research and portfolio management for long-short systematic investment strategies at BlackRock.  Before BlackRock, Mr. John was a Quantitative Researcher at Goldman Sachs, where he worked on systematic strategies and capital structure arbitrage models.  Mr. John started his career in the POINT group in Fixed Income at Barclays Capital.
Mr. John received a B.S. in Aerospace Engineering from  Indian Institute of Technology (IIT), M.S. degrees in Finance, Mechanical Engineering, and Mathematics from Princeton, Cornell, and the University of California, Santa Barbara, respectively, as well as a Ph.D. in Mechanical Engineering from the University of California, Santa Barbara.