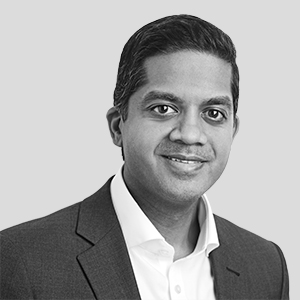 Sachin Bavishi is a Senior Managing Director in Blackstone's Private Equity Group. Mr. Bavishi currently focuses on new investment opportunities in Technology, Media & Telecom (TMT), and since joining Blackstone in 2013, he has been involved in the execution of the firm's investments in Ancestry, Bumble, Catalent, Ipreo, Kronos, Liftoff, Performance Food Group, Pinnacle Foods, Refinitiv, SESAC, Simpli.fi, Tradeweb, Trilliant Food & Nutrition, Ultimate Software, and Vungle. He currently serves as a Director of Ancestry, Bumble, Liftoff/Vungle, SESAC, and Simpli.fi.
Prior to joining Blackstone, Mr. Bavishi was an Associate at Olympus Partners where he evaluated and executed private equity investments across several industries. Prior to that, he worked in investment banking at Piper Jaffray in the Healthcare Group.
Mr. Bavishi earned a BS in Electrical Engineering from The University of Wisconsin-Madison, where he graduated with Highest Distinction (Top 5%), and an MBA from The Wharton School at The University of Pennsylvania, where he graduated as a Palmer Scholar.