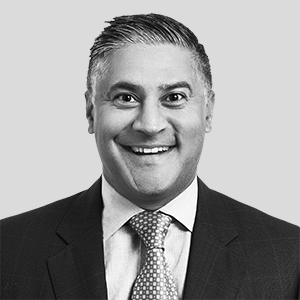 Ram Jagannath is the Global Head of Healthcare, responsible for investing across Blackstone's Private Equity, Tactical Opportunities and Growth businesses, based in New York. Since joining Blackstone in 2019, Mr. Jagannath has led Blackstone's investments in HealthEdge, Burgess Group, Bright Health, Cryoport (NASDAQ: CYRX), ZO Skin Health, Altruista Health, Ginger, Hydrogen Health, Wellframe, Medable, and Life Science Logistics, and was involved in Blackstone's investments in Alnylam/inclisiran royalty (NASDAQ: ALNY) and Precision Medicine Group. He is also a member of the Blackstone Growth Investment Committee.
Before joining Blackstone, Mr. Jagannath was a founding Partner of Navab Capital Partners (NCP), where he was Head of Healthcare and a member of NCP's Management and Investment Committees. Prior to NCP, he was a Managing Director of The Carlyle Group, focused on healthcare investments in Carlyle's flagship US Buyout private equity fund. During his twelve years at Carlyle, Mr. Jagannath was a member of the teams which invested in One Medical Group (NASDAQ: ONEM), Pharmaceutical Product Development (NASDAQ: PPD), X-Chem (GHO Capital), Ortho Clinical Diagnostics (NASDAQ: OCDX), Healthscope Ltd. (ASX: HSO), and HCR ManorCare (NYSE: HCP/ProMedica). Previously, he worked at Genstar Capital and Thomas Weisel Capital Partners.
Mr. Jagannath currently serves on the Board of Directors of HealthEdge, Cryoport, ZO Skin Health, Headspace Health and Hydrogen Health and as a Board Observer of Medable. He also serves on the Board of Visitors of the Duke University Pratt School of Engineering and on the Kellogg School of Management Private Equity Advisory Council, as well as on the Board of Directors of Centering Healthcare Institute. Mr. Jagannath was previously a term member of the Council on Foreign Relations.
Mr. Jagannath received a B.S.E. in Biomedical and Electrical Engineering with a minor in Economics from Duke University, a J.D. from the Northwestern University Pritzker School of Law, and an M.B.A. from the Northwestern University Kellogg School of Management. After Duke, he was a Fulbright Scholar in Economic Development at the University of Zagreb in Croatia.