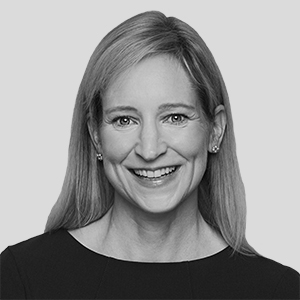 Elizabeth Lewis is a Managing Director and the Head of ESG for Blackstone Infrastructure Partners. Ms. Lewis leads the integration of ESG into the BIP investment process to mitigate risk and create value for portfolio companies and BIP investors.
Prior to joining Blackstone, Ms. Lewis was at the International Finance Corporation (IFC), the private sector part of the World Bank Group, leading engagement with investors, NGOs, governments, and other stakeholders on climate change and diversity. Prior to joining IFC, Ms. Lewis was a Partner and Director of Strategy and Business Development for Terra Alpha Investments. Prior to that, she established World Resources Institute's Sustainable Investing Program and served as WRI's Head of Sustainable Investing. Earlier in her career, Ms. Lewis was a Principal at Global Environment Fund, a private equity fund focused on clean energy and sustainable forestry. Ms. Lewis started her career at Booz Allen Hamilton, advising clients in their evaluation of alternative energy technologies and solutions.
Ms. Lewis holds an AB in Environmental Science and Public Policy from Harvard College and an MBA from Harvard Business School. She serves as Chair of the Board of Trustees for The Nature Conservancy Maryland/DC. She also serves as a member of the Harvard Business School Alumni Board and the Harvard Alumni Association Schools and Scholarships Committee and is Class Chair of the John Harvard Society.