Market Views
Joe Zidle: Labor Data – Small Business Shows Strain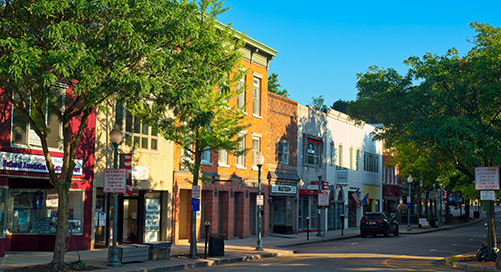 By Joe Zidle, Chief Investment Strategist
with Taylor Becker, Research Analyst
An initial February report indicated only 20,000 jobs had been created, causing markets to hold their breath before the March print. Last week, that print caused a sigh of relief: 196,000 new jobs. It's the kind of labor report the market needed: generally solid, no signs of excess. The report showed strong payroll growth, modest wage gains and a slight upward revision to February's subpar results.
Closer examination warranted The report seemed to ease concerns for those fearful of an imminent U.S. recession. However, a deeper look at recent labor trends shows that a hairline crack may be developing in the small business data. It's more like a crack in a windshield though; in a late-cycle environment, weaknesses can appear with no apparent catalyst or point of impact. Sometimes they simply emerge as stress accumulates over time.
Small business stress fracture Small companies have historically comprised over 99% of all U.S. firms, and just under 50% of private-sector employment.(1) Yet an ADP employment report shows that the smallest firms (fewer than 50 employees) are behind in hiring. These small firms added just 6,000 jobs in March and 19,000 in February, representing 4% and 10% of net new private sector jobs, respectively.(2)
Not a seasonal phenomenon These tiny gains are notable because ADP data back to 2005 show that businesses this size typically account for 40% of net new employment.(3) On average, they account for 38% of net new employment in the first quarter. In Q1'19, small firms hired at a slower pace than the long-term average back to 2005. Meanwhile, mid-sized firms hired twice as fast and large firms nearly five times as fast.

A hitch in hiring plans The NFIB Small Business Jobs Report for March indicated that small firms' hiring plans reached their lowest levels since August 2017.(4) Firms cite the inability to find qualified workers as the primary reason. As a result, firms may not be directing additional resources for recruitment or boosting wages to attract new workers. Businesses are also taking down job postings. According to the Bureau of Labor Statistics, the number of job openings fell by more than 500,000 in February (see chart below).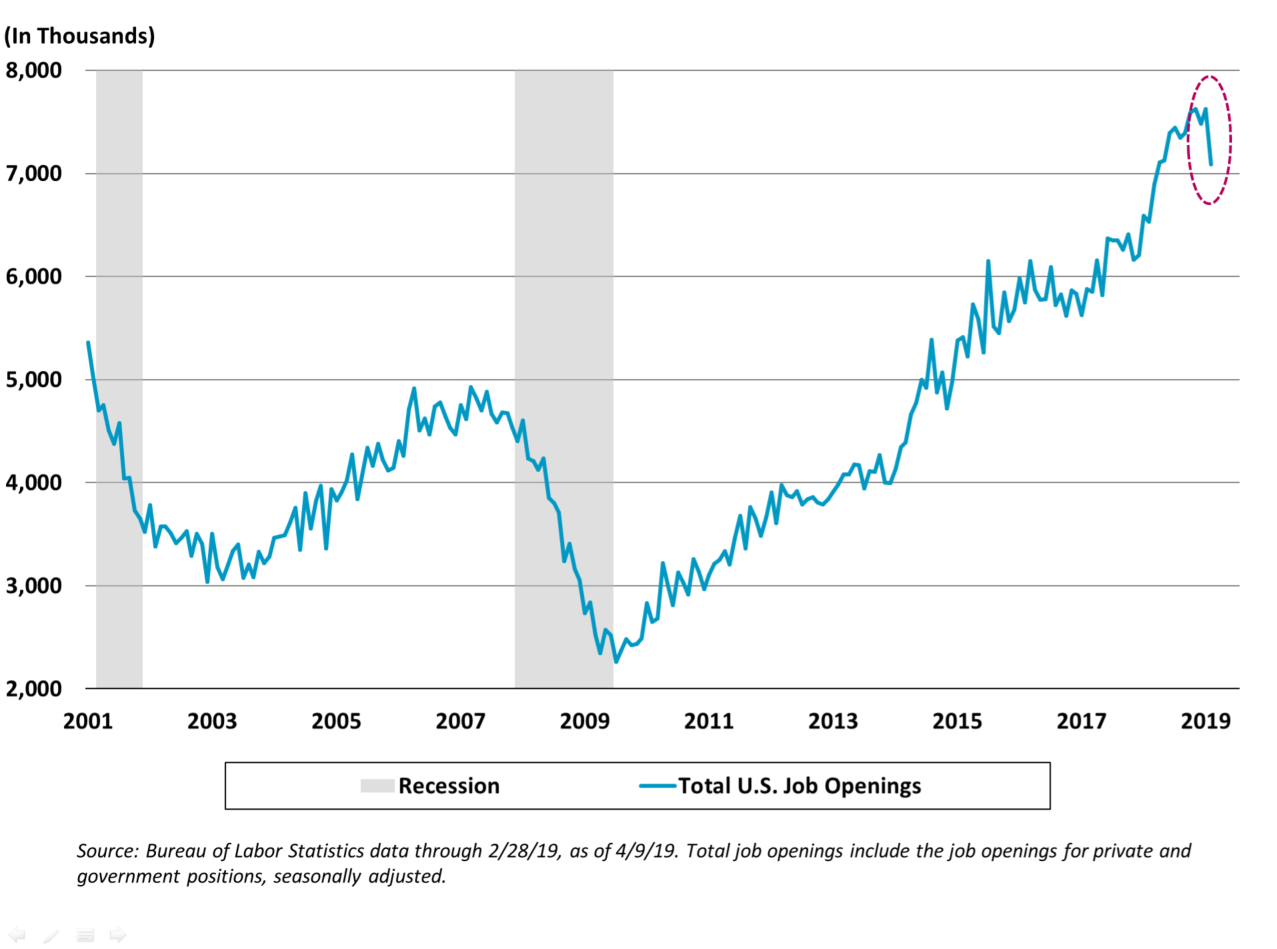 Respect changes in labor markets We are cognizant of and sensitive to all changes in the labor market, particularly those that indicate even the slightest signs of weakness. The labor market remains at its strongest levels in decades, but it's important to look beyond the headline numbers to understand the dynamics at play. Historically, labor market weakness is a necessary condition for recessions. The turning point can only be determined after the fact, but labor data in recent months have been far from perfect. It will be something we're watching in the months ahead.
---
(1) Source: Small Business Administration, as of August 2017. Reflects data collected in 2014.
(2) Source: ADP March National Employment Report, as of 4/3/19. Represents the monthly change in nonfarm private sector employment, on a seasonally adjusted basis.
(3) Source: ADP, Bloomberg and Blackstone, as of 4/3/19.
(4) Source: NFIB March Jobs Report, as of 3/31/19. Note: While NFIB does not have a standard definition of "small business," 97% of NFIB membership has 50 or fewer employees.
* * * * *

The views expressed in this commentary are the personal views of the author and do not necessarily reflect the views of The Blackstone Group L.P. (together with its affiliates, "Blackstone"). The views expressed reflect the current views of the author as of the date hereof and Blackstone undertakes no responsibility to advise you of any changes in the views expressed herein. For more information about how Blackstone collects, uses, stores and processes your personal information, please see our Privacy Policy here: http://go.pardot.com/e/213192/privacy/5qvg1/159241904?h=DLDMCKk_gbLh-dwf0GzGHhVUEfnqCWBvZMKqJJTvPOo. You have the right to object to receiving direct marketing from Blackstone at any time. Please click the link above to unsubscribe from this mailing list.


Blackstone and others associated with it may have positions in and effect transactions in securities of companies mentioned or indirectly referenced in this commentary and may also perform or seek to perform services for those companies. Investment concepts mentioned in this commentary may be unsuitable for investors depending on their specific investment objectives and financial position.
Tax considerations, margin requirements, commissions and other transaction costs may significantly affect the economic consequences of any transaction concepts referenced in this commentary and should be reviewed carefully with one's investment and tax advisors. All information in this commentary is believed to be reliable as of the date on which this commentary was issued, and has been obtained from public sources believed to be reliable. No representation or warranty, either express or implied, is provided in relation to the accuracy or completeness of the information contained herein.
This commentary does not constitute an offer to sell any securities or the solicitation of an offer to purchase any securities. This commentary discusses broad market, industry or sector trends, or other general economic, market or political conditions and has not been provided in a fiduciary capacity under ERISA and should not be construed as research, investment advice, or any investment recommendation. Past performance is not necessarily indicative of future performance.