Portfolio Insights
Dave Calhoun on Productivity and Technology
---
Yesterday, Dave Calhoun, Senior Managing Director and Head of Private Equity Portfolio Operations at Blackstone, joined Jason Kelly on Bloomberg Television to discuss how we're driving value creation and transformational changes across our portfolio companies, and what's on the minds of business operators today.
He touched on a range of topics, including:
– The role of technology in sparking increased productivity;
– How the private company model creates strong incentives for long-term growth;
– Business sentiment in the board rooms across Blackstone's portfolio.
You can see the full interview at the following link or by clicking on the following image. Excerpts are also available below.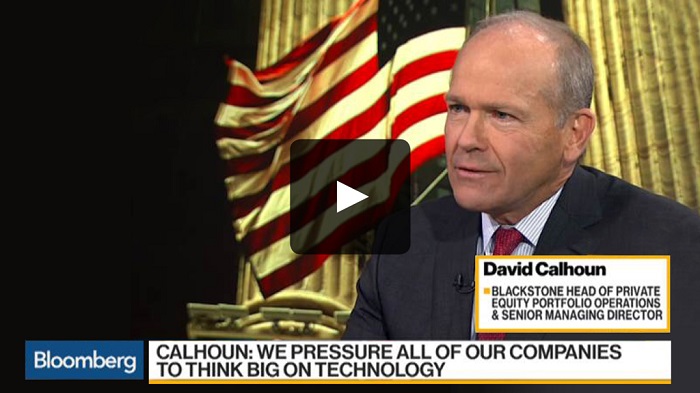 ***
DAVE CALHOUN: Today, the technologies that we have available to reengineer every dimension of our business – from the customer interaction, where you can put [artificial intelligence] to work overnight; to the distribution of products, where you have all forms of new distribution to cultivate; to the design of a product or a service [that you can] model online without having to use a drafting table and all those things – the whole value chain can be rebuilt using today's technologies. And the productivity opportunity inherent in that and the growth opportunity inherent in that are big.
So we pressure all our companies to think big around that subject and to move forward […] It's ironic that our country struggles for productivity when at the micro-level, each company on its own bringing technology to bear, I don't think the outlook's ever been brighter to be more productive . . .
JASON KELLY: What is the one single thing you find you can do at almost every company you know? . . .
DAVE CALHOUN: . . . The first thing we do is we want to make sure have a leadership team that wants to play offense, not defense . . . I think the public model, because of the quarterly "one penny at a time" sort of metric, I think that crowd has become risk-averse in lots of different ways. We won't allow that in our companies.
JASON KELLY: So you see more companies going private? Is private equity taking over that sort of long-term view? . . .
DAVE CALHOUN: Well I think the numbers would suggest that we already are. The alternative investment environment is growing at a much faster pace than the public equity environment . . . I grew up believing that private equity was short-term money and public equity was long-term money. And I have a complete opposite view today and I think most people who have grown up as operators believe that. And so the ability to attract the best and brightest to the private governance model is getting better every day.
***
The views expressed in this commentary are the personal views of David Calhoun and do not necessarily reflect the views of Blackstone itself. The views expressed reflect the current views of Mr. Calhoun as of the date hereof and neither Mr. Calhoun nor Blackstone undertakes to advise you of any changes in the views expressed herein. Neither this blog post nor any of the information contained herein constitutes an offer of any Blackstone fund.