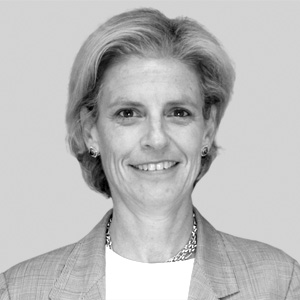 Amy Stursberg is Chair of the Board of the Blackstone Charitable Foundation and CEO of Schwarzman Scholars and the Stephen A. Schwarzman Education Foundation. She directed over $110 million in grants from the Blackstone Charitable Foundation, including $50 million to support the Foundation's focus on increasing access to entrepreneurship. This includes Blackstone LaunchPad, the foundation's collegiate entrepreneurship program to help diverse and under-resourced students build companies and careers. As CEO of Schwarzman Scholars, Ms. Stursberg helped launch the program and raise over $550 million in pledges to endow it in perpetuity.
Ms. Stursberg previously served on the transition team for the former Governor of New York. From 2006-08, Ms. Stursberg managed the Lower Manhattan Development Corporation's $90 million program in cultural and in community grants in Lower Manhattan. Previously, Ms. Stursberg served as the final Director of the September 11th Fund. There, she helped to manage the $500 million fund to support communities, individuals and organizations impacted by the events of 9/11. She has held various positions at the Office of Management and Budget at the Office of the Mayor in the City of New York, as well as at the Department of Health and Human Services in Washington, D.C.
Ms. Stursberg received her BA with honors from the University of Michigan and her Master's in Public Policy from the John F. Kennedy School of Government at Harvard University. Currently, she serves on the Partnership for New York's Innovation Council and on the Board of Directors for the Tectonic Theater Company; formerly, she served on the National Advisory Council on Innovation and Entrepreneurship (NACIE).